WinRAR
5.21
Organizing files never felt so good
There is no universal rule that says you need to pack and unpack software archives in order to live a fulfilling life. Also unless you can't sleep at night without having something archived into a nice bundle then you're pretty much not needing any archiving software. The problem however is that others do not share your blissful ignorance. There are times when e-mail attachments or software packages may just be out of your reach. Unfortunately Windows cannot deal with every archive format and sooner or later you will need a third party software to cover you. Why not try WinRAR?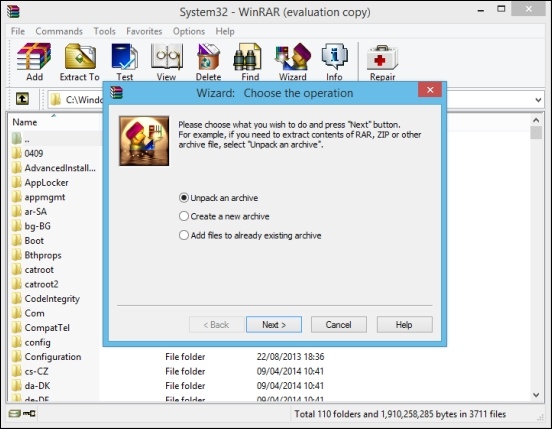 A trusty companion
WinRAR has been around for more than 20 years and is probably a household name by now. It can deal with various types of archive formats such as TAR, ISO, 7Z and CAB to name a few. As for usability, WinRAR embeds itself into the Explorer contextual menu for quick access. For example, you right click on an archive and chose how you want to unpack it right there. You can also right click on a file or selection to create an archive or add them to an existing one.
However, if you want to explore it further you can always open the whole thing and gain access to all of WinRAR's features. What could possibly interest you? Well how about the Wizard? For those that are too scared of doing something wrong, you can let this helpful tool to guide you.
If you're feeling up to it however then you can create archives of multiple shapes and forms, extract, test archives, repair them and much more.
Features
Archive unpacking (17 types)
Archive creation (RAR, ZIP, RAR5)
Self Extracting archive option
Multi part archive creation
Archive comments (you can add comments to be seen un unpacking)
You should check if your operating system uses 64bit technology (right click on My Computer/This PC then Properties). Otherwise you should get the 32bit version of WinRAR.
Pros
You get quick access to it's functions through the contextual menu.
It deals with almost any type of archiving scenario, so you don't need any additional application.
Cons
Conclusion
WinRAR is almost a mandatory presence on your computer if you at least occasionally archive files. It integrates wonderfully with the contextual menu that you'd sometimes forget that it's not an integral part of Windows.
---
Add a review
Tell us your experience with
WinRAR
5.21
RELATED PROGRAMS
Our Recommendations
---
---
---
---